TACTILE COMFORT CREATION HUGS
I am so pleased that my friend, Kelly, chose to use this Hug in her healing process. Many thanks to she and her husband Michael (the photographer) for letting me use the pictures in my brochure and on my web site.


"Jan Graham gave me my hug after my first chomotherapy treatment. Chemotherapy can be cold and long. My hug kept me warm and I felt the love Jan puts into them. Thank you so much Jan for being a part of my healing process.
Kelly O'Neil, Breast Cancer Survivor 2004"
My Tactile Comfort Creation Hugs are called Hugs because that is what they are created to be. These Hugs have been used in therapy sessions and also by individuals recovering from illness. They are made of double strands of acrylic heavyweight yarn which make them extremely soft. Being 100% handwoven with no extra "frills", they feel like a simple, comforting hug around your shoulders. Hugs make great gifts for those in your life you can't be with. The idea is that they can feel your hug while wrapped in one of these Hugs. I have been blessed with the gift to be able to do energy work on humans and animals so each one is made with a positive energy woven into it that hopefully will be felt each time a Hug is used.
| | |
| --- | --- |
| This is my triangular loom where my Hugs are created. It was handmade for me by some wonderful friends, Laura and Rob Guptill. It certainly was a labor of love and I will always be grateful to them for the time they spent making it. | This Hug was given to a very dear friend whose wonderful husband passed away suddenly just two months before their 56th wedding anniversary. I hope it gives her much comfort. Each time she uses it, she will know I am sending her a hug. |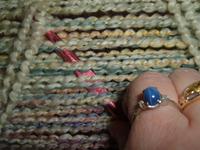 WEAVING A HUG